In this article, you'll get an idea of how to create customised Diwali Celebrations emails specifically for the Indian audience who spends a big amount in the Diwali season and you as a business owner/marketer of any company need to grab this chance to launch interesting offers and gain highest engagement on each email sent in the Diwali season.
I've created email message for each type of businesses, so have a detailed look at them and put any of your query in the comments section.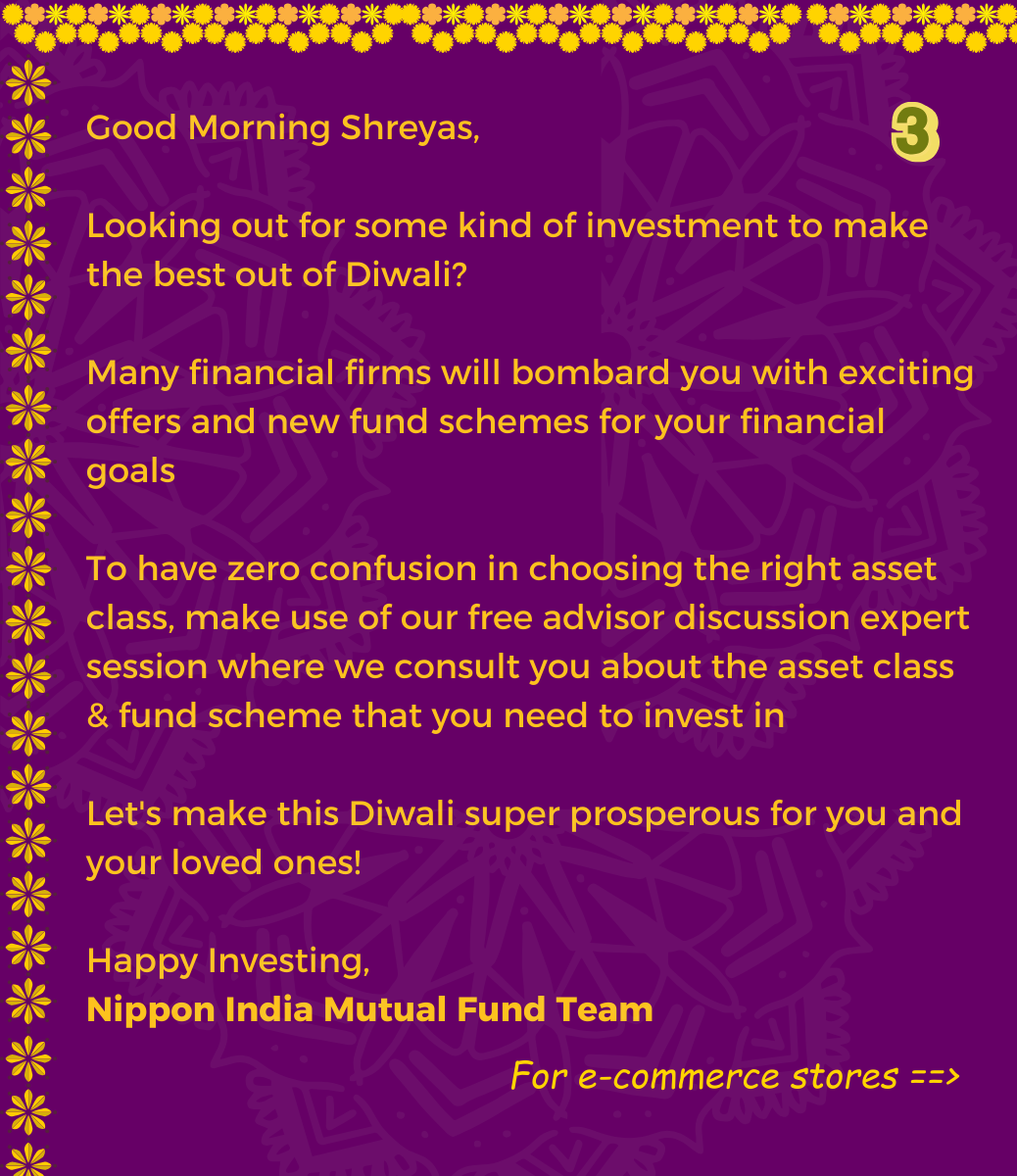 How To Send Gentle Reminder Emails In The Above Niches?
Sample 1:
For E-commerce:
We've found more varieties in your product's wishlist in the beauty & skin care section.

Especially for Diwali, we're refilling our stock 89 times in a day from Assam and West Bengal cities due to the natural ingredients this region has got.

Here're the reviews of people who've ordered last week:

Want to know thier exact shopping experience with us? Click here to post your question on the Amazon (e-commerce name) community and gain ultimate certainty (a small reward hidden after you post your question)
[In this email, we can motivate the buyer to post his/her objections in the app/web community and ask directly the regular buyers to gain trust]
Sample 2:
For Banks [to motivate the reader to check out financial services like mutual funds]
More than 10948 families became financially secure (here are their stories) in FY 2022 and the number continues to grow.

The value of family is understood when the festive season comes closer, where each day is filled with joy, togetherness, celebration and strengthening the relationships among each other.

HDFC Bank always ensures that each customer experiences financial stability without going under any kind of financial turmoil.

We've wisely picked 3 Mutual Fund Growth Plans designed for your needs that'll leave your future generation financially stress-free

[List out here the 3 Mutual Fund Growth Plans]
==> Consult Your Nearest Mutual Fund Advisor <==
Sample 3:
For Travel Agencies:
Winter Vacation With Your Family Still Pending?

How many times have you planned for a family trip in winter? But haven't yet completed it because of tight work schedules

As per your recent travel destination selection, we've picked 3 winter tours with family:

[List out here the 3 Travel Tour Packages]
Confused about which would be the best suitable? Answer this travel questionnaire to let us help you pick the most beautiful destination that would make your festive holidays super enjoyable
Sample 4: For Colleges & Universities
Diwali Festival signifies the celebration of the victory of good over evil when Lord Ram, Laxmana and Sita Devi return to Ayodhya.

Likewise, when King Ravana was defeated for his wrongdoings. There are certain academic mistakes made in your early career that need good guidance to set your career on the right path.

871+ students fixed their career paths under the guidance of IIT faculty to help students suggest the right course that has market demand.
==>Have A 15 Mins Talk With IIT Faculty Members<==
Which audience group is active at which time?
Especially corporates are active in the afternoon when meeting & work isn't more
Students are mostly active in the morning & late at night to check their emails
Get your e-mail design with the message of the email copy and related to the Diwali celebration
Make your email hyper personalize and increase the frequency by following all the email compliance rules to hit the lowest spam rate
Brainstorm with your team of which dates & email sequence will be suitable for your email list
Get inspiration from other brand email promoting the Diwali offers to get more creative ideas

Customize emails as per the buyer's action and don't give fake scarcity.
Let me know how the above emails work for you!
Thank you for reading so far
🙏🏻